DogWatch of Southeast Ohio
It's all about your dog!
Mike and Tracy Kinneer have proudly joined DogWatch Hidden Fence Systems over 10 years ago, in Southeast Ohio, to provide pet owners the absolute best systems available on the market. Mike and Tracy have lived in this area for over forty years and stay very active in sporting activities as coaches and bookkeepers for their ABC boys, Austin, Bryce and Caiden. 
As a family and owners of four dogs, a Labrador, Bailey Grace, a Labradoodle, Buster, and long haired Dachshunds, Snickers and Winston, we completely understand that pets are an important part of your life and they need to be protected. Dogwatch Hidden Fences does exactly that!
We provide excellent service with an impeccable reputation. Our professional grade pet containment systems will give your pets the freedom they need and deserve while keeping them safe in your yard. We guarantee you will be satisfied with a DogWatch Hidden Fence System. Please call Tracy for an over the phone or on-site quote. 
Our DogWatch team consists of Tracy, Mike, Tod, Scott and Tony as installation technicians. Their three boys also play an important part of the business. 
Mike and Tracy previously had a professionally installed system from another company and were constantly having problems with lightning strikes and multiple issues with the dog receivers breaking, the batteries falling out of the receivers and their dogs escaping the boundary. After years of this frustration they decided to look for another brand. After speaking with Pat and Emily West, the Columbus dealers, they informed us that this territory was open for a Dogwatch dealer!! "It was the best move we ever made," stated Mike. He also said "we chose DogWatch, because DogWatch had a superior product offering with the FM Safelink design, 2 year battery life vs. the 3 to 4 month battery life of the competitors, and a user friendly transmitter."
In addition to being DogWatch dealers, we are proud members of TriValley Athletics, Zanesville Muskingum County Chamber Commerce, and PAWS of Muskingum Co. 
We hope to have the opportunity to help keep your pet safe.
We have financing available! Click here to apply!
Service Area
We provide services to customers in the South East Corridor of Ohio area, including the towns and cities of Zanesville, Mount Vernon, Howard, Cambridge, Saint Clairsville, McConnelsville, New Lexington, Coshocton, Dover, New Philadelphia, Newcomerstown, Barnsville , Steubenville, Cadiz and Wheeling, WV, Ohio and the surrounding area.
Get a Free In-Yard Estimate!
Our representatives will meet you at your home for a free in-yard estimate. We will help assess your needs and customize a solution that suits both you and your pet. Call today or schedule an appointment to get things started!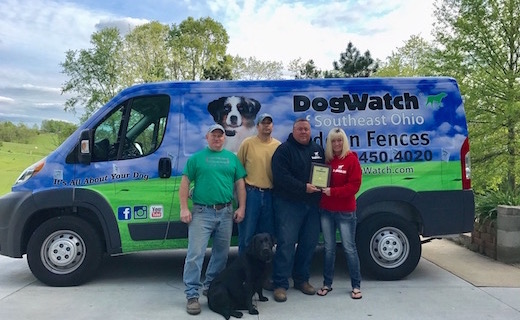 Why Choose DogWatch of Southeast Ohio?
1. Our number one concern is the safety and well-being of your pet. We provide the support you need to ensure successful training and happy containment.
2. We provide a proven PetFriendly™ training program. We train your dog (or cat) to recognize the boundary flags and the audible warning signal (or vibration) before introducing the correction.
3. We are experienced professionals committed to providing excellent customer service and support. We strive to service every customer promptly and courteously.
We want to hear about your experience! Write us a review on Google+
Simply the best. No getting around it.™
Another reason to choose DogWatch of Southeast Ohio is that we are an authorized DogWatch dealership. The DogWatch Hidden Fence is the most technologically advanced and the easiest to use, and it is backed up by a no-hassle Lifetime Warranty from a company with more than 25 years of keeping pets happy and safe.

What makes us Simply The Best?
---
Customer Testimonial
We love the Dogwatch system and so does our lab, "Bear." Mike is a compassionate dog lover and has made it possible for Bear to run in the yard and not be on a leash. Listen to his education and you can't go wrong!
P.K.& Paula - Cambridge